In the state of Minnesota, there are ten counties which participate in the Minnesota Agricultural Land Preservation Program. Each participant—Anoka, Carver, Dakota, Hennepin, Ramsey, Scott, Waseca, Washington, Winona, and Wright counties—imposes a $5 fee per transaction. This fee applies to all transactions.
LodeStar will automatically quote this fee within Section E, "Buyer Paid Taxes." When exported from LodeStar to a user's LOS, the fee is bundled into the transfer taxes. LodeStar Support can itemize out this fee upon request.
Here is how the fee will appear in LodeStar's calculator: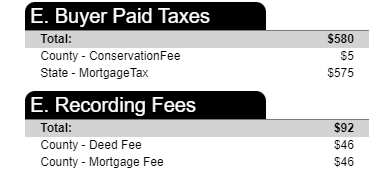 Further details on state statutes and fee reporting are available on the Minnesota Department of Revenue's website.